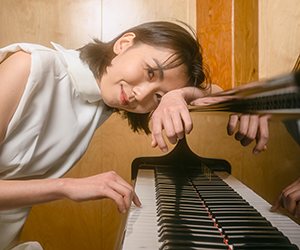 Joseph Haydn: Sonata in E Major, Hob.XVI:31
1.Moderato
2.Allegretto
3.Presto
Claude Debussy: Masque L.105
Isaac Albeniz : Rondeña from Iberia
Sergej Prokofiev: Sonata no.6 A Major op.82
1.Allegro moderato
2.Allegretto
3.Tempo di valzer lentissimo
4.Vivace
Hyelim KIM
Praised by backtrack " the pianist who dominate the stage with her intelligent
and lively phrasing, an art of storytelling , Pianist Hyelim Kim plays with a
variety of sounds and enormous virtuosity (Rheinische Post).

Prizewinner of the renowned Clara Haskil Competition in Vevey (2019), She is
also Prizewinner of the 8th Annarosa Taddei International Competition(2020),
Haut-de-France Competition (Les Etoiles du Piano) in Roubaix(2021) and
German Piano Award (2021).

Since marking her orchestral debut with Romania-Bacau Orchestra only at the
age of 10, she has performed with Zermatt Festival Orchestra (Christian
Zacharias), Orchestre de Picardi (Arie van Beek), Chuncheon youth Symphony
Orchestra. In 2018 she debuted in the Tonhalle Düsseldorf and the Stadthalle
Wuppertal, performing Burleske of Richard Strauss.

She has also given solo recitals in Germany, Netherland, France, Italy, Hungary,
Greece, Switzerland and Korea. In addition to concerts at the "Bechstein Young
Professionals" and "WDR 3 Campus Concert" series, she won First prizes at
Steinway&Sons Förderpreis in NRW.

Born in South Korea, after winning numerous Competitions in her Contury, She
went to Germany to study with Georg friedrich Schenck. She performed in the
masterclasses of Robert Levin, Dang Thai Son, John Perry, Pavel Gililov, Felix
Gottlieb and earned her Bachelor's Degree at Robert Schumann Hochschule in
Düsseldorf.

Currently, she is pursuing her Master degree at Hochschule für Musik und Tanz
in Köln under the guidance of Claudio Martinez Mehner.