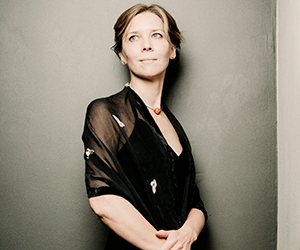 Robert Schumann (1810-1856) Fantasiestücke op.73
- Zart und mit Ausdruck
- Lebhaft, leicht
- Rasch und mit Feuer
Johannes Brahms (1833-1897) Sonate op.38 in e minor voor cello en piano
- Allegro non troppo
- Allegretto quasi Menuetto
- Allegro
Sergei Rachmaninov (1873-1943) Vocalise op.34 No.14
Sergei Rachmaninov (1873-1943) Preludes piano Op.32 No.10
Op.23 No.2
Astor Piazzolla (1921-1992) Le grand tango
Anastasia Safonova
Anastasia Safonova is a Russian/Dutch pianist. Her playing has been praised by
public and press for the deep musical understanding, colorful and poetic pianism,
continuing involvement and fascinating energy. She began her professional career at
the age of 12, performing the Mendelssohn Concerto with the Moscow Youth
Orchestra. She studied at the Gnessin Russian Academy of Music and holds a Master
of Music degree from the Royal Conservatory in The Hague where she studied with
Naum Grubert.
Anastasia Safonova was a laureate of prestigious international competitions, winner
of the first prizes at the Yuri Egorov International Competition and the Yamaha Music
Competition. Her numerous performances included appearances in famous concert
venues in the Netherlands, Belgium, Luxembourg, France, England, Germany, Spain,
Italy, Turkey, China and Russia.
Among her chamber music partners are renowned names as Boris Berezovsky, Boris
Belkin, Mikhail Kugel, Godfried Hoogeveen, Mikhail Petukhov and Igor Gruppman.
Anastasia Safonova has a busy schedule participating in the international festivals
and giving concert performances with orchestras in Europe and Russia.
She appeared a.o. at Schleswig-Holstein Musik Festival (Germany), Bourglinster
Festival (Luxembourg), Grachtenfestival (The Netherlands), Tiberius Festival
(Romania), Pianoscope (France), Ankara chamber music festival (Turkey), Music of
the Earth (Russia) and Festival Classique (The Netherlands).
She has made various recordings for the radio and TV channels and has released
several chamber music CD's with Esra Pehlivanli and Irina Simon-Renes. Her solo cd
"Vol vers l'étoile" has been released in January 2022 by Et'cetera Records and has
got the highest rating (10) from the Dutch music magazine "Luister". Furthermore,
she is an active participant in combined programs for one of which "MR. Finney"she
has received a personal gratitude from the Royal House of the Netherlands.
Anastasia Safonova holds a teaching position at the Conservatory of Maastricht (The
Netherlands).